About Fran
I grew up spending summers at my father's boys' camp in northern Wisconsin. Every night, we sang for an hour around the camp fire, the songs singing us into bedtime. These are my earliest memories of community singing, engrained in me as the way families and people connected and patterned their lives. My parents were my earliest and most effective models of sharing music with children in a natural and common place.
I began college as a music therapy major at Indiana University, but quickly discovered that music was the underlying current in my world and the intense study was not true to my past experience and passion. I later rediscovered my love for singing with children as I worked in summer day camps. It would be years before I would return to those wonderful community music experiences.
I got my master's degree in Early Childhood: Special Education and taught young children with special needs in private and public schools for over 32 years. I found that using music to teach early language and concepts were very beneficial for my students with a variety of challenges. I began writing songs about 15 years ago, incorporating the language and concept development skills into music based on seasonal themes. I also discovered that music was an effective pathway to learning about social skills, awareness of self and others.
My students eventually began attending the kindergarten classes and I shared these songs with the children and teachers in those settings. I discovered that creating a book to illustrate the song lyrics was an excellent method to further teach the skills in the songs as well as increase early literacy skills. This combination of song and visuals (books, charts, pictures) has proved to engage even the most reluctant of learners.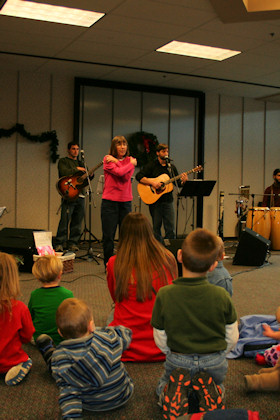 The natural outcome of these teaching tools was to develop a system to share them with other teachers and parents. The CD has been the first step in that process. The six books which have been created to date are in the process of being self-published. Let's Make Snowmen!, the first book to be launched, will be available on this website at the end of August. More books will be created over the next year. Another vehicle to share my teaching approach has been to provide workshops to educators on the link between music and literacy. See the Workshops page for more information.
I retired from public school teaching in June 2007 when I decided to venture into music activities full time. I am currently teaching preschoolers at the Central Wisconsin Children's Museum, day cares and in my own classes. This fall, I will be offering a Family Music class in the evening and classes for preschoolers through my new company, Screen Porch Music. See the Classes page for more information. I also present workshops for educators on providing the link between music and literacy in their classrooms.
My classes are a combination of my teaching in early childhood development, my original songs and books, as well as traditional and varied children performers to provide a music and learning experience to engage young children. The emphasis is on early music skills, language development, cognitive and social skill development and early literacy skills interspersed with movement—an essential vehicle for the early learner. Add the delight which occurs when children share music in community, and the learning blossoms!