Books
Fran has created books to illustrate her songs. These books are simplistic as well as engaging in their design and content. The song lyrics are under each illustration so the child can "sing to read and read to sing", a great approach to building early literacy skills! When these books are used with the songs, learning becomes even more dynamic!
New Book Size!
Books now available in two sizes:
Circle Time size: 11 1/2" x11 1/2"
Bookshelf size: 9" x9"
Cindy Circle
Written and illustrated by Fran McKinney
Cindy Circle explores the idea of circles in a fun and musical way. Discover all of the wonderful circles that Cindy encounters as she goes about her day.

Holiday Time
Written and illustrated by Fran McKinney
Holiday Time is a book about the senses during the holiday season. It includes squares of colors over words indicating the color of bell or tone block to be played by students. The book combines singing to read with reading to play. Early literacy is enhanced as the children watch for their color and word to be scanned as the leader reads/sings each page. Listening, visual focus, musical skills and early literacy all blossom in this fun and engaging book!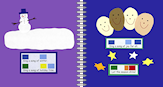 The Pumpkin Patch
Written and illustrated by Fran McKinney
Take a visit to a pumpkin patch and discover all of the wonderful different pumpkins that can be found there.

Let's Make Snowmen!
Written and illustrated by Fran McKinney
Winter fun begins in this colorful book about two children making a snowman. Each step of creation is illustrated in cut-paper art with a simplistic style that draws the child into the fun. This book will please little ones from toddlers to readers.

The Triangle Lullaby
Written and illustrated by Fran McKinney
This story will captivate children as they get to know their new friend who loves triangles. His life is surrounded by his favorite shape and children are delighted as they discover what form the triangle will take next! Imaginative scenes are presented in cut-paper art using simple text and figures on each page. The rhythm of the melody is sure to bring calm and comfort, demonstrating the best meaning of a lullaby.