We're Friends - All Year Long
Music to delight infants through 8 year olds!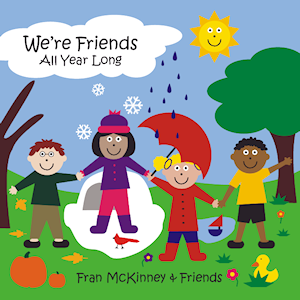 Winner of a 2010
Parent's Choice Award
Winner of a 2009
iParenting Media
Award
Buy the CD today
or
with the books
(from Fran)
We're Friends—All Year Long is your ticket to early childhood learning and fun! This collection of original music by Fran McKinney will take children and adults on a musical ride through the familiar activities and experiences of the seasons. From the opening Hey, Mr. Sun! to the last lullaby, Blue Whale, the music engages the listener as the lyrics teach basic themes of early learning—friends, family, feelings, healthy foods, holidays, shapes, animals, community experiences and movement fun. Add the variety of musical styles and instrumentation, and this year-long journey is sure to delight kids, parents and teachers alike!
Songs for All Seasons
Books
Fran has created books to illustrate her songs. These books are simplistic as well as engaging in their design and content. The song lyrics are under each illustration so the child can "sing to read and read to sing", a great approach to building early literacy skills! They are in the process of being self-published and availablity will be annnounced on the website as they are completed. The first titles to be self-published are:
When these books are used with the songs, learning becomes even more dynamic! See the Books page for more information, and keep posted for release updates!
Workshops
Fran also presents workshops for educators on providing the link between music and literacy in their classrooms. See the Workshop page for more information.
Awards
"Twenty-two short and sweet songs abound on this kid-friendly CD, all of them written and performed by music educator Fran McKinney. Shifting effortlessly from healthy-food-themed songs ("Canning the Vegetable Garden," "Chicken Soup") to songs about shapes ("Cindy Circle," "A Triangle Lullaby," "Simon Squared"), McKinney's lyrics about friends, family, and feelings help teach young listeners basic themes of early learning. The musical styles and instrumentation are appealing."
- 2010 Parent's Choice Award